Quality Microfiber Flat Mop Pad Head Factory
We are factory located in China, we have engaged in mop product since 2006, with more than 10 years experience, we have more than 300 kinds of different mops, like wet mop, flat mop, dust mop, industrial mop and a range of mops using for different area. This floor cleaning cotton flat mop has super absorbent cotton yarn perfect for damp mopping and dry sweeping. When fully spread out the mop head measures from 60 to 120cm making it a large enough mop to clean efficiently and effectively. Use this mop to clean all types of surface areas including wooden floors, kitchen floors, restaurant floors, bathroom floors, garages, warehouses, office floors, tile floors, marble floors, and hardwood. We also chose a traditional wooden handle with a steel metal frame so you can have a sturdy and reliable handle that can withstand all types of cleaning and maneuvering without having to worry about it snapping like plastic. The steel metal clip also includes a plastic slide to allow you to lock or unlock the swivel action.
Save time and money with this blue microfiber flat mop pad! Boasting a 75% faster drying time than conventional mops,
this microfiber mop refill will cut both the labor and cleaning materials needed to clean your hospital, restaurant, and store floors.
Its increased absorbency and light weight, easy handling make cleaning a breeze!Also,this mop pad head can protect your floor very well.
Ideal for the healthcare industry, this mop pad helps prevent cross-contamination when cleaning numerous rooms.
This pad is designed to be used for one room only; simply take the mop pad out of the bucket of cleaning solution it sits in,
squeeze out the mop pad to the desired moisture level, slip the pad on the frame, mop the room, and remove the mop pad.
This quick drying pad weighs 70% less than your conventional cotton mop, so changing mop heads for each room is easy and less strenuous than ever before.
As a company with many years of foreign trade experience,
we welcome all customers to contact us to discuss further business and grow together.
Here`s everything about our mop:

? Long, sturdy handle
? Large cleaning head
? machine washable pads
? Easy to put on and remove the pads
? Can use any kind of floor cleaner
? Easy to maneuver under and around cabinets and furniture
? You can easily turn it on it`s side to get the grout lines in between tiles if necessary
? Has a hook for hanging
| | |
| --- | --- |
| Item Name | Quality Microfiber Flat Mop Pad Head Factory |
| Mop Yarn Material | recycled cotton yarn, microfiber yarn, etc. |
| Size | 40cm, 60cm, 90cm, 100cm or customized |
| Suitable Handle | Stainless Steel/ Aluminum |
| Accessories | Steel |
| Colors | Customized |
| Types | Flat Mop, Dust Mop |
| MOQ | 3000 pieces |
| Advantage | Strong absorption and dry quickly |
Advantage:
1: We have a dynamic export team with more than 12years experience, which ensures the effective, efficient and satisfying communication & service to customers.
2. 2007-2008 years in Raw Material Yarn
2009 year – Until Now in Mop
3. We have a daily production capacity of 4000-5000pcs Mops, so we can finish the order within 10 days after we got the design of color box.
4. We have a strong sale team, once get the inquiry ,we will handle within 1 hour .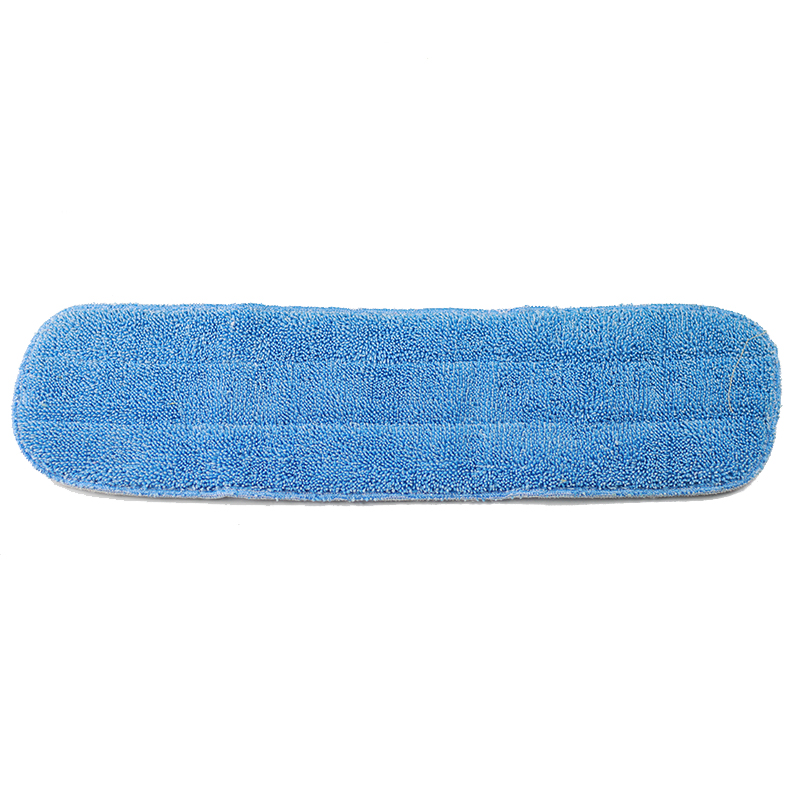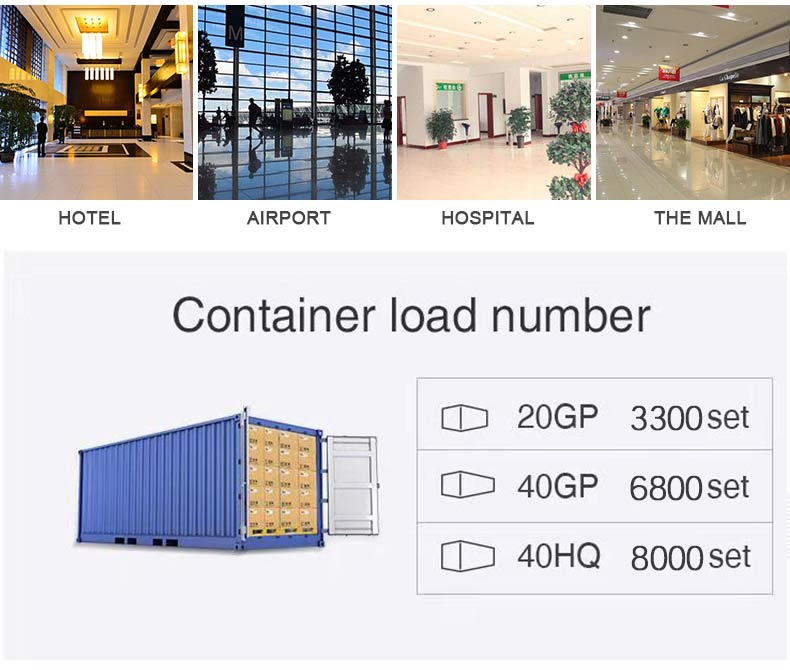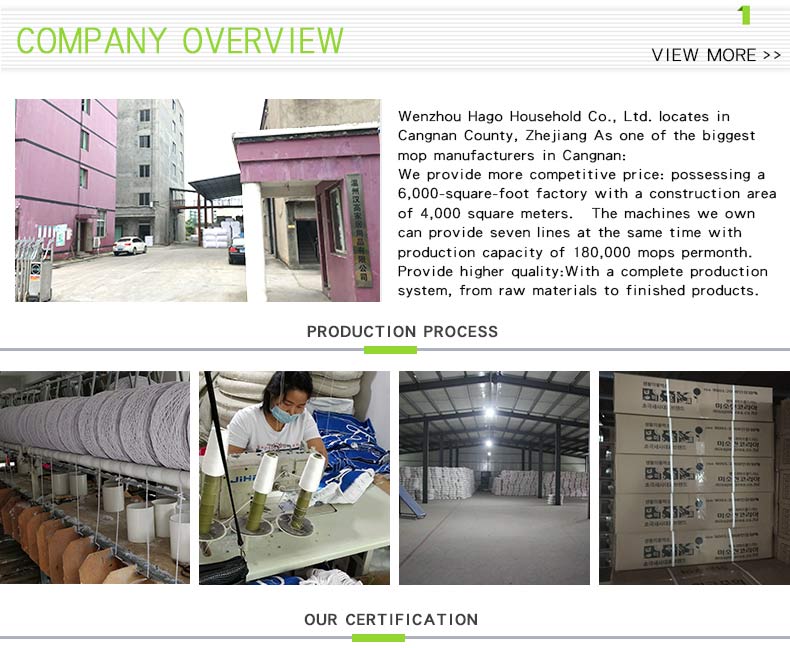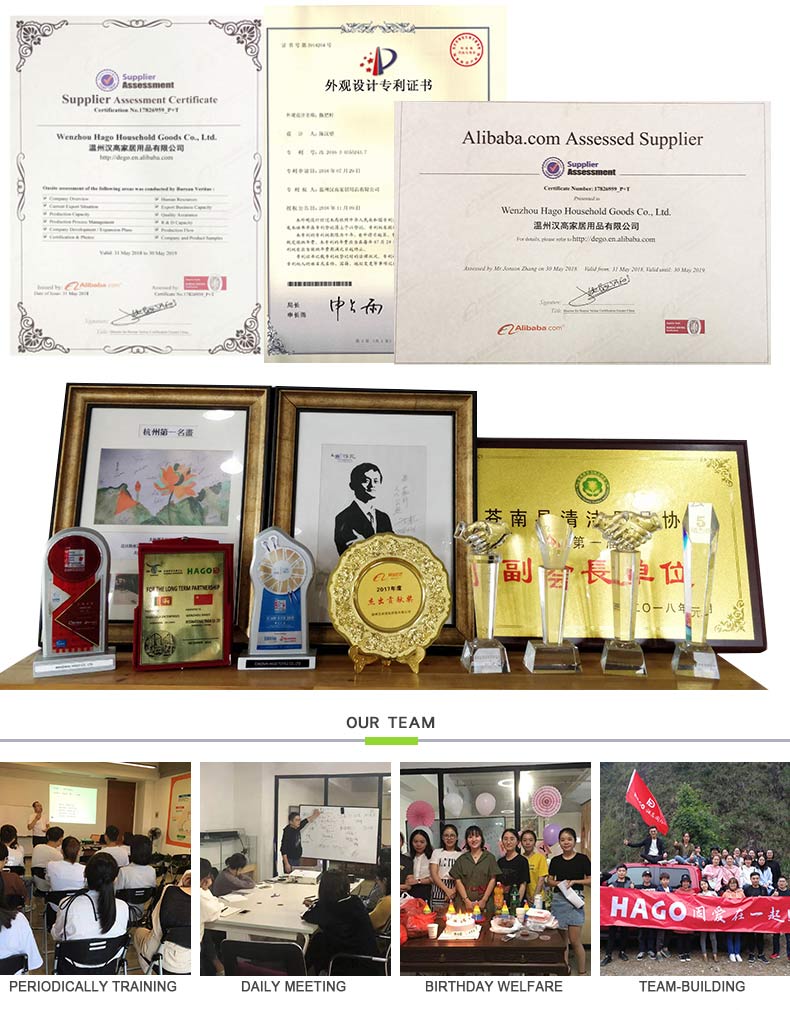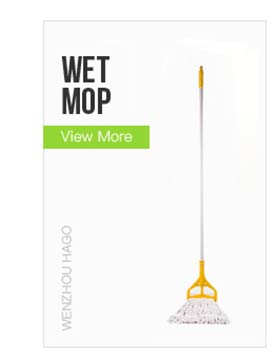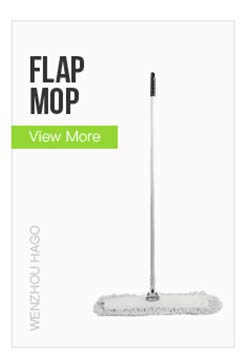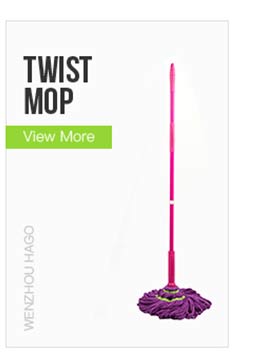 FAQ
Q: Which exhibitions your company will attend?
A: We attend many domestic and foreign exhibitions, like Canton fair, Indian fair.
Q: What`s your productivity a per month.
A: For twist mop refill, more than 200,000 pieces can be produced.
For twist moo set, more than 100,000 can be produced.
Q: You are trading company or direct factory?
A: We are direct factory, possessing complete production lines from raw material to final mops.
Q:For twist mop, how many production lines you have owned?
A: For twist mop refills, they are produced by automatic machines.
For assembling twist mop set, there are 3 production lines, more than 3000 sets will be prepared every day.
Q: How long the delivery time will be?
A: Generally, for one 40ft HQ, our delivery time should be 20 days.
Q: What`s your lowest price?
A: It depends on client`s quantity, more quantity more discount and lower price.
Q: What`s your MOQ?
A: For mop refill, our MOQ is 5000 pieces,
For mop set: our MOQ is 3000 sets.