Factory Price Phenolic Threaded Rod and Nuts
Precision Phenolic threaded bolts and nuts. Due to its special material properties, Lignostone is mainly used as insulation material in transformer construction and as thermal insulation for tank supports in ocean tankers carrying liquified natural gas. Due to wood's natural insulating properties, the fasteners, along with densified wood laminate panel, are critical components for electrical devices. The fasteners are also favored for connecting various types of plastic panels.
Use laminated wood fastener like wood nuts, it can efficiently overcome the shortage of fasteners made from phenolic Bakelite and nylon fasteners. This product has good mechanical strength, good arc resistance, high resistivity and high oil absorption rate, also low dielectric dissipation, after immersed into oil it has certain self-lock property. With improvement of transformer technology, transformers tends to be has high voltage, low dissipation, low partial discharge and higher reliable. More and more transformer manufacturers choose to use wood fasteners for guarantee product quality and reliability.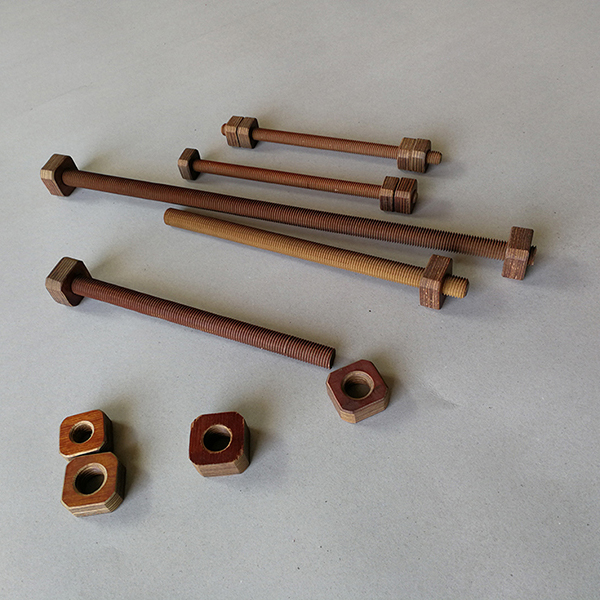 Company Profile
Yingkou Dongyuan Electrical Insulation Wide Plate Co., Ltd. is located in China (Liaoning) Free Trade Pilot Zone. The factory covers an area of 17,000 square meters, with more than 100 employees and fixed assets of 40 million yuan. The company's main products are: Electrical Laminated Wood, insulation boards (3240 epoxy board, 3021 cardboard, 3025 cotton cloth board, 9309 low dielectric loss cardboard Etc.), laminated wood insulation parts (compression rings, clips, round rods, screw nuts, pads, pallets, support frames, fasteners and other finished products in various shapes) and other insulating materials. It owns 32 sets of main production equipment including 8000 ton press, 6000 ton press, 5000 ton press, gluing machine, etc. After many years of hard work, the company has completed the original accumulation and the equipment renovation, and has newly developed the nation's largest board ( 4000mm × 2000mm, 3000mm × 1500mm, 2700mm × 2700mm ...), filling the domestic gap and setting a record for the large format of the insulation board. Its products have passed the national ISO quality management system certification and have the only large-scale all-metal detector in China. The products are applied to various power distribution systems and components such as transformers, switch cabinets, and motors. The company adheres to the credibility of the first, quality first, continues to work on the development of insulation materials products, consolidate the leading position in the market, and strive to provide users with the best service.